Sabah Museum to search America for Borneo's lost film
KOTA KINABALU 06/12/2012: Sabah Museum unveils an international public-private sector collaboration yesterday with its American counterpart to re-engineer a 1937 vintage film, Borneo as a major tourism product of Malaysia and to 'globalize' the movie.
Borneo is regarded by many as Malaysia's first wildlife movie, in 18 separate language subtitles targeting 1.8 million viewers from a diverse international audience.
The re-branding and worldwide distribution of Borneo is rationalized under 'Borneo-For-The-World' 75th anniversary label. This global outreach campaign is spearheaded by Sabah Museum in association with the Martin and Osa Johnson Safari Museum in Chanute, Kansas, USA.
It is managed and promoted by Infotronik, the Johnsons' commercial rights holder in Malaysia, in partnership with a consortium of major sponsoring parties to re-introduce the 1937 movie as the eighth wonder of Sabah.
The year-long campaign is expected to rekindle the block-buster euphoria when the movie was first premiered in New York 75 years ago. The purpose is to re-invigorate Borneo to a new level of growth; creating value, conceptualizing sequels and motivating smart partnerships that will benefit history, education, arts and culture, film and music, tourism and businesses in Malaysia.
Joanna Datuk Kitingan, a former director of the Sabah State Archives, briefed Tourism, Culture and Environment Minister Datuk Masidi Manjun that Sabah Museum is committed to make Borneo and to distribute the movie to a global audience.
"We are celebrating a century-old Malaysian-American friendship fostered through the works of Martin and Osa Johnson with our forebears along the Kinabatangan River from 1920, 1935-36. Our objective is to enable more Malaysians and people around the world to see and enjoy this rare Martin and Osa Johnson's film and be inspired by their true grit of flying adventures in faraway exotic land," said Joana, the director of Sabah Museum.
This 75-minute vintage movie was the last picture of Martin Johnson. It turns 75 beginning September 2012 after it was first premiered in New York on September 3, 1937.
Borneo features a magnificent saga of vanishing cultures and wildlife expeditions few have ever seen.
The movie introduced the great ape of Borneo – the Orang Utan – (which subsequently inspired the making of 'King Kong' movie in later years) and other rare primates for the first time to New Yorkers in 1937. It's the only record that exists on the life and times of North Borneo (1920 – 1936), especially in the lower Kinabatangan floodplain, which is now being gazetted as a protected conservation area.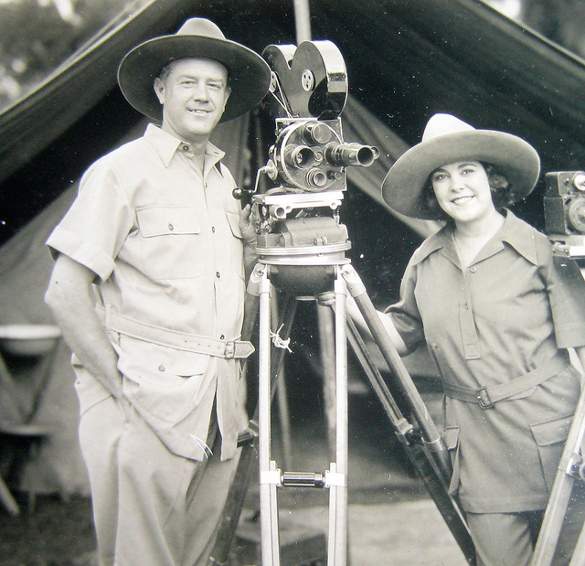 Martin and Osa Johnson were fascinated by the rich bio-diversity of the lower Kinabatangan flood plain. Even to this day, this part of the 560km Kinabatangan River is still known for its remarkable wildlife, the large variety of birdlife, fascinating limestone caves, dipterocarp jungle, freshwater swamp forest, oxbow lakes and salty mangrove swamps.
The objective is to enable people from various races in a pluralistic society like Malaysia in particular and the world in general, to share the fascination of the Johnsons' adventure, to be inspired and to build on their remarkable legacy. The mission is to preserve and advance Borneo history, its vanishing cultures, its pristine ecosystem as well as its rich bio-diversity.
The re-engineering of this early film consists of three major components — subtitling, collectible and spin-offs. These initiatives are made available for corporate sponsorships, personal underwrites and CSR (corporate social responsibility) adoptions by corporate Malaysia.
The campaign also aims to fund the search for Jungle Adventures in America, deemed the last piece of the jigsaw in the museum's quest to complete its early Borneo film anthology for the people of Malaysia.
Jungle Adventures was filmed by Martin Johnson's during his first trip to Borneo in 1920. This first Borneo film has not been seen close to a hundred years after its debut in New York in 1921. It is now embraced as Malaysia's lost film, waiting to be recovered and restored as Malaysia's very first silent movie.
"This campaign will help Sabah Museum realize its aspiration to lead a joint expedition to America in June next year to search for Jungle Adventures, an important piece of Malaysian history that lies frozen in time in America since 1921. It will also help us to recover any unused film footages of Borneo for future re-mastering without incurring any costs and financial risks to the museum," said Joanna.
"The search and retrieval of Jungle Adventures, considered to be Malaysia's very first silent movie, is consistent with Sabah Museum's mission to continually research and recover our history that is kept hidden in public depositories, libraries, museums and corporate archives overseas," she added.
Martin and Osa Johnson funded their expedition through advertisement and sponsorships with big brand names like Coca Cola, Shell, Ever Ready battery, Electrolux and their travelling road shows and previews across America. Seventy-five years later today, these same global brands will once again be invited to take advantage of the advertising and promotion mileage that can be tapped in this new phase of the movie's evolution.
"Borneo is a powerful re-branding tool as well as a compelling theme-builder. It is perfectly suited for those looking to create an immediate brand presence and fast track their recognition and visibility. It is also adaptable to re-positioning of existing brands. Other benefits to participating partners include image enhancement, brand awareness, free media exposure, industry recognition, cultural and socio-economic accomplishments and perhaps even financial gains under the right circumstances," said George Chen, past president of 4As Malaysia (Association of Accredited Advertising Agents of Malaysia), who is heading the promotion team in Kuala Lumpur.
The promoter hopes to attain a critical distribution mass of 1.8 million movie DVDs (100,000 movie DVDs for each of the 18 subtitles planned). An estimated nine million viewers have been projected basing on an average viewership of five persons for every movie. The benefits and cost-effectiveness to potential sponsors is clearly evident under such scenario.
According to Joanna, both Borneo and Jungle Adventures have big tourism potential. These rare pieces of Borneo history will be restored, re-mastered and distributed in collaboration with the Martin and Osa Johnson Safari Museum and its licensee, Infotronik, a FINAS-licensed film producer and distributor in Malaysia, as well as other potential co-producers and co-publishers from within the country and abroad.
Already, the 1937 movie, Borneo, is targeting the 795,951 visitors (2010; excluding arrivals from within Malaysia) to Sabah each year. Various strategies will be implemented to tap into this growing segment (10% y-o-y) as the main impetus to support the 1.8 million viewers mark worldwide.
According to Masidi, Sabah expects to receive five million visitors by 2020. A five-fold increase over the 800,000 arrivals registered in 2010. The Malaysian Tourism Transformation Plan 2020 projected 36 million tourists with RM168 billion in tourist receipts for the whole country. Basing on similar spending trends, these five million tourists will translate to RM23 billion (or RM447 million per week) in tourist income for Sabah by 2020.
The roll out of international subtitling, collectible merchandising and novel CSR applications during the movie's 75th anniversary year (September 2012-September 2013) will create synergies to benefit government, industries and businesses. They will also draw sponsorships to widen the search for Malaysia's lost film in America in June 2013.
The 18 international subtitles cover English, Malay, Chinese (Mainland), Chinese (Taiwan), Tamil, Hindi, Japanese, Korean, Dutch, French, German, Spanish, Portuguese, Italian, Russian, Arabic, Pashto (Afghanistan) and Persian (Iran). The language selection rationale is based on the tourism market focus of Malaysia, namely Asean, North Asia, Australia, New Zealand, Eurozone, Middle East and the BRIC countries Brazil, Russia, India and China).
They offer sponsoring companies the opportunity to develop follow-up cross border businesses with their foreign counterparts leveraging on Borneo's history, culture and biodiversity.
Amongst others, part of the net proceeds from the campaign will go in support of the Centre of Native Legal Studies of Sabah to publish the country's first native customary law report.
Stella Moo-Tan, curator of Sabah Museum said Borneo has attained a few notable accomplishments that set it apart from other vintage movies in its class.
"Borneo is Malaysia's first wildlife movie. It was the most expensive pre-war movie ever produced in Malaysia. It has the biggest film set of amphibian plane, boathouse, Chinese junk and the country's first jungle movie studio. The making of 'Borneo' involved the largest and most diverse natives cast in Malaysian movie history. It mobilized the Tenggara Murut, Ramanau Murut, Orang Sungai and other sub-tribes of Borneo. It was also the only live Orang Utan capture accomplished by net and muscle (without gun) ever caught on film. A feat not repeated till this day," said Stella.
Conrad Froehlich, director of the Martin and Osa Johnson Safari Museum, in his campaign message said Borneo offers a distinctive type of contents that is well suited for novel CSR applications by Corporate Asia. The movie's planned entry into the periphery of Asian cable syndication and mobile contents will open up new opportunities. The synergies from auxiliary spin-offs and related investments will likewise benefit local communities and businesses.
"For the first time in 75 years, Martin and Osa Johnson's signature movie Borneo, takes its first step to re-master itself and moving forward to reach a new global audience. We are pleased to play a lead role in this international collaboration with Sabah Museum and our licensee, Infotronik in Malaysia as well as other sponsoring parties to develop Borneo to its full potential," said Froehlich.
The official launching of 'Borneo-For-The-World' will be held in conjunction with the week-long open of the movie's 75th celebration planned from 21st to 27th April 2013. The public can attend free film shows (Borneo, I Married Adventure, Africa), vintage and wildlife photo exhibitions, DVD and book signing, merchandising, business networking, filming and photographing equipments fair, stage make-up demo, script writing and filmmaking workshop, free autographs, casting call (various productions) and talent-hunt sessions.
There will also be a photo session by surviving member and descendent of the main casts in Borneo.
The highlights of the dinner event include the world's first solo rendition of 'Borneorilla' (an adaptation of 'Congorilla' fox trot) and other Johnsons' movies sound track by local musicians, sketches by local standup comedians, posthumous recognition of Martin and Osa Johnson's contributions to the ethno-cultural, zoological and pictorial history of Sabah, presentation of certificates of appreciation to participating sponsors and other exciting stage performances.
The campaign will culminate to the release of a new television series on vintage Borneo (dedicated to the memory of Martin Johnson's lifelong work) at the end of the anniversary year. This multi-episodes production will be an adaptation of Martin's earlier films on Borneo in 1920 and unused footages filmed in 1935-1936 with new location shootings of people and wildlife in the lower Kinabatangan wetland.
"We welcome other collaborative partners such as government-linked corporations (GLC), NGOs, SMEs as well as local entrepreneurs looking to contribute to the advancement of Borneo to come on board to underwrite any one of our listed sponsorship programs or to jointly develop some of the CSR projects," said Joana.
Interested parties can email the promoter at borneofortheworld@gmail.com for information on participation or to request a copy of the official sponsorship package.
-----------------
Martin and Osa Johnson Safari Museum